5 Ways to Make Cleaning Fun for kids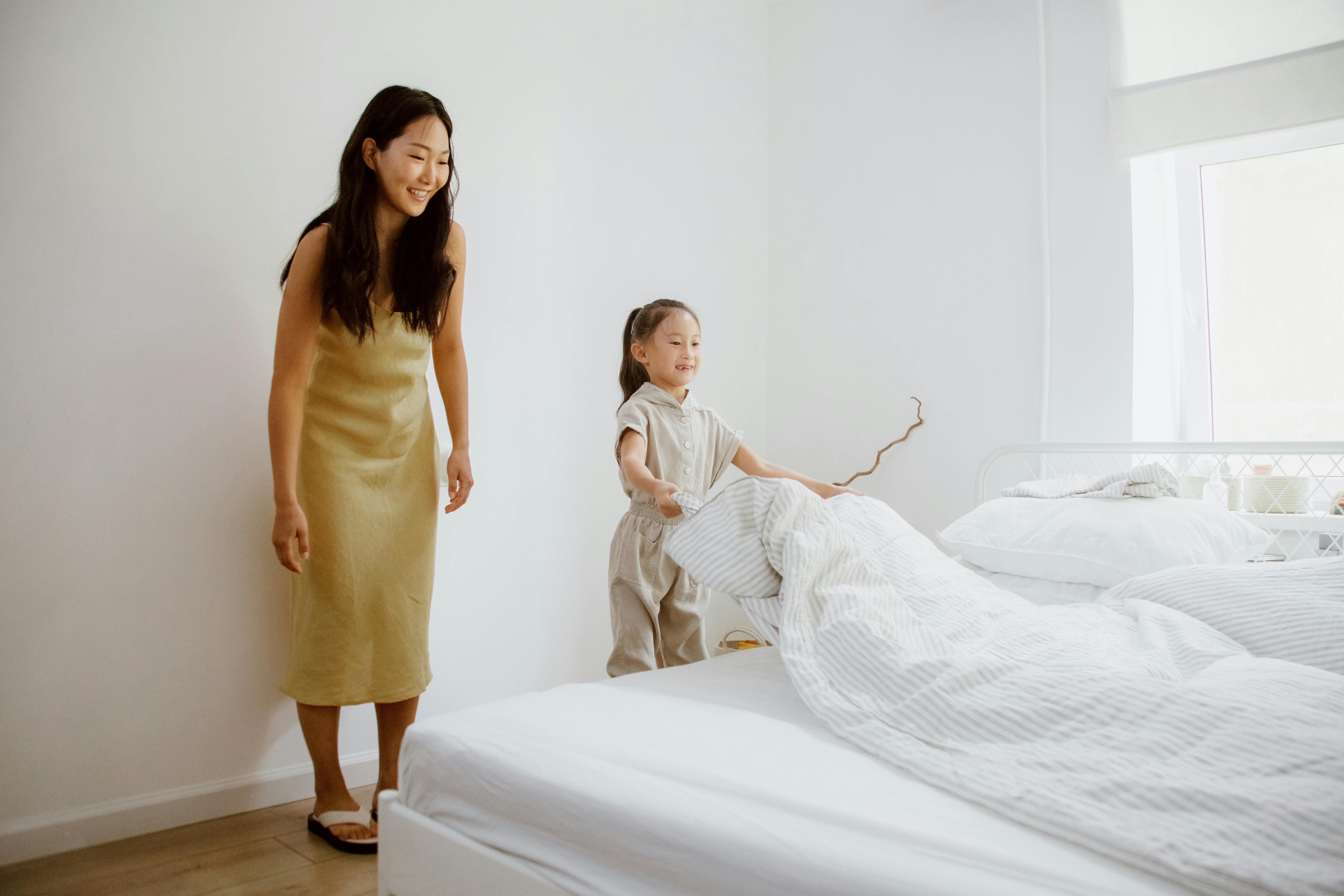 5 Ways to Make Cleaning Fun for kids
Help motivate your kids to love helping out around the house by using these 5 simple ways to make cleaning fun for kids!
Written by Rachel Nelson | See Comments | Updated 02/18/2022
Want to cut to the chase?
Repeating Item Cleaning Plan
Want to cut to the chase?
Repeating Item Cleaning Plan
Get the Free Printable PDF Now
Get it Now
5 Ways to Make Cleaning Fun for kids
This post contains some affiliate links for your convenience. Click here to read my full disclosure policy.
Having trouble getting your kids to help pick up? We've all been there! Help motivate your kids to love helping out around the house by using these 5 simple ways to make cleaning fun for kids!
When I asked my 4-year-old if she had any ideas about how we could make cleaning more fun for her, her response was not only funny, but insightful.
"Well you could just let us play play play and you could do all the work!"
I laughed out loud, but then realized I had made a grave parenting mistake. Unwittingly, I had taught my daughter that 'work' was always bad, and 'play' was always good!
Work And Play are Both Vital For Children
As a mother I have been learning to find pride in housekeeping, as well as learning to find true enjoyment in the self-discipline it takes to complete household chores—even if they are mundane ones (like organizing your kids clothes). But my children are still learning that work (and cleaning) are not just interruptions to their important play time, but a vital part of it!
Maria Montessori famously said that "Play is the work of the child". Kids learn through play, thorough exploration, and through experimentation and laughter. Not only does play help them grow, it unlocks their ability to focus for long periods, learn gross motor skills, and more.
I have successfully used play and imagination as ways to communicate with my children before, so I knew that implementing playfulness could help us my kids in this area as well.
Let me share with you some easy tips to implement in your own home. Let's teach your kids to enjoy cleaning up!
Tip #1: Laundry Basket Shopping Cart
A favorite quick tidying game we often play at home is something I like to call "Laundry Basket Shopping Cart."
I provide the children with an empty laundry basket and tell them to "drive" it around the house and "shop" for all the toys they can find on the floor.
This method makes it very quick and easy for them to pick up after themselves because they can do all the toys in one go. Without the laundry basket, it is too difficult for them to carry multiple things at a time, which makes for a lot of back and forth.
You can take this game one step further and tell them that after their "cart" is full, they need to return the items "to their shelves" where they belong. If they need help putting some things away, you can step in and pretend to be the cashier and check them out of the grocery store.
An alternative but similar method to this game is called the "Magic Carpet Ride." Instead of giving the kids a laundry basket to load up, give them a blanket and have them drag it around the house to find their toys and give them a "magic carpet ride" back to their bedroom! (Sometimes toys fall off the blanket with this method, though!)
Tip #2: Basketball Toy Box
The basketball toy box method is a straightforward favorite for boys and girls alike. Make returning the toys to the toy box a basketball game, see who can shoot from the furthest distance away!
You can also play this game with the dirty laundry into the hamper. Be warned that while these games are effective to put items back in their boxes, takes a bit of time to shoot them in one by one!
Tip #3: Make It a Race
Kids love a challenge, and they love a race. There are several ways you can turn cleaning up into a race that will make your kids want to go as fast as they can.
Method 1: Have your kids race each other to see who can pick up the most items the fastest. This game works best for older kids cleaning up, because there is a clear winner and a clear second place. (We don't want cleaning time to end in tears!)
Method 2: Time your kids and have them compete against themselves. See if they can beat their "record" time. For some reason, kids love it when parents tell them how fast they did it!
Method 3: Race against your kids (and maybe let them win!) Decide which items you will clean and which your kids will clean, then race them to see who can finish first. They will (hopefully) think the idea of challenging and winning mommy is so funny and exciting! (This method is better for younger kids.)
Tip #4: Play Pretend
Clean up time doesn't have to be boring. Why not make cleaning fun by turning it into Princess Clean Up Time? Or Ballerina Clean Up time?
Appeal to your toddler's imaginations by asking your little "princesses" or "princes" to quickly dress up in a costume and help tidy up the castle.
You can use this pretend game with any character. I have successfully gotten my toddler's attention after dinner by asking her "Nemo! Come swim over here and put your fishbowl into the sink, please!"
The surprise of mommy suddenly initiating such a funny game is usually enough to motivate promptness.
Tip #5: Let Them Decide
Finally, and maybe the most important and useful tip of all. Let your kids have some control over their tasks. This is not necessarily a game, but allowing your kids to take some of the reigns is something that really teaches them that they can be self-sufficient and have pride in their own work!
I do this by helping my kids observe what needs to be done, then helping them make a plan to tackle it. For example, I ask: "What do you see on your floor? What should you clean up first?" My 4-year-old usually then looks around and decides "I will do the books, you do the dress-ups." I am happy to oblige!
Another way to give them control of their environment is to offer two options. If the toys need to be picked up, and the laundry needs to be moved into the dryer, you can ask them which one they would like to do, while you do the other.
Or perhaps you can have them decide the order in which they complete a series of simple tasks.
Being in control is enjoyable, we mothers know this from experience! Remember to let your kids have some control as well, it can really make cleaning fun.
Teach Responsibility by Making Cleaning Fun
Kids cleaning up without being asked (or without complaining) is very possible.
It is important for kids to learn that they have an important role in their family, possessions to care for, and their own special responsibilities. But learning these values does not have to be painful or boring for them!
Teaching children that chores can be rewarding and enjoyable is one of the best things I have learned to do as a mother to young children. I am constantly surprised by my 1- to 5-year-olds gleefully asking to help out or clean up. I can see the pride in their eyes when they want to show me their newly cleaned room!
Of course, we still have moments where cleaning is not the favorite activity of the house, but these 5 tips are just a few of the ways we have been able to peacefully and effectively teach our kids responsibility—by making cleaning fun.
In conclusion, making cleaning fun is a simple and effective way to teach kids to pitch in around the house, and you can start today! Which tip are you most excited to try?
Start Your Next Step
Repeating Item Cleaning Plan
Start Your Next Step
Repeating Item Cleaning Plan
Get the Free Printable PDF Now
Get it Now
Get Sanity, Delivered to Your Inbox.
About the Author
Rachel Nelson
Contributor
I'm a wife, mother, and homemaker striving to create a peaceful home for my family, and learning to cultivate joy on the journey. I write about my parenting journey on my blog, Approaching Home, and I love sharing my experiences with other mothers.
My Motto: Happiness is a Choice.
Motto: Happiness is a Choice.