8 Best Side Hustles For Moms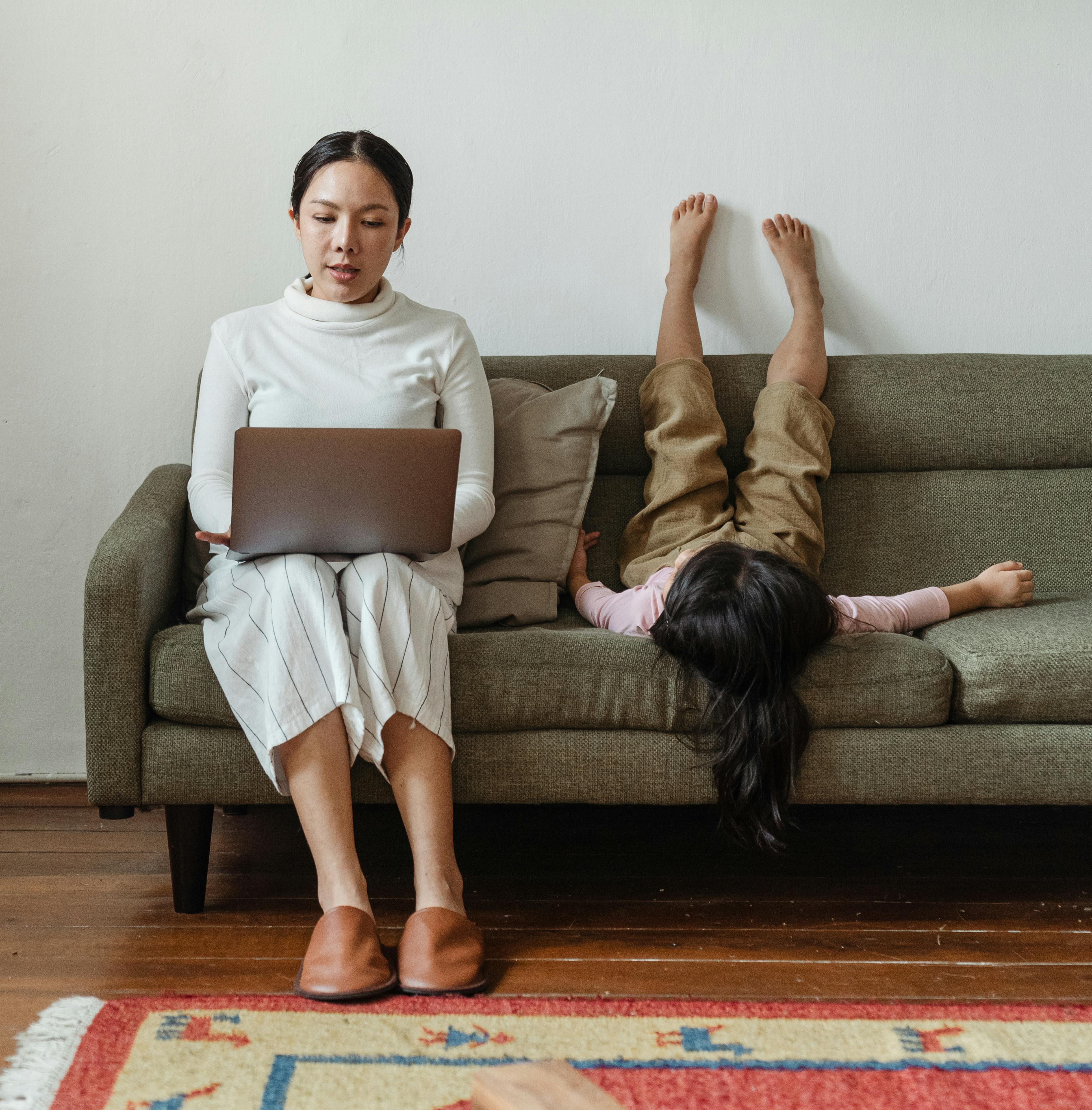 8 Best Side Hustles For Moms
Check out these 8 side hustles for moms that will fit into your busy schedule!
Written by Kaitlyn Lowther | See Comments | Updated 08/18/2023
8 Best Side Hustles For Moms
This post contains some affiliate links for your convenience. Click here to read my full disclosure policy.
Finding a side hustle that fits your busy schedule can feel impossible. But there are so many options out there! Start a side hustle that allows you to work when you want or even enables you to make money whenever you don't want to work! Here are the eight best side hustles for moms that will work around anyone's schedule.
Content Writer
Becoming a content writer is a perfect side hustle for moms! As a content writer, you will work with companies to create content for their social media, website, emails, or blogs. Most of the time, they will give you a deadline to turn in your project. So, write when it fits into your schedule! If you're a morning person, wake up early and write. If you love staying up late, write in bed. Write when your kids are taking a nap. Write whenever, as long as you meet the deadline.
Content mills are great ways to get started with your content writing side hustle. Most content mills will require a grammar and writing test. Once you pass, you can write articles on whatever you wish, then sell them to whoever wishes to purchase. I will say that this is excellent practice, but selling content isn't guaranteed. Consider signing up for Constant Content, Contena, or ProBlogger to get started.
If you want a retainer content writing client, try pitching to companies you'd love to work with! Then you can write content for a set rate every month.
Virtual Assistant
Becoming a virtual assistant is a great option if you want to work from home and need a side hustle without experience. As a virtual assistant, you will work with small (or large!) business owners who need help with their business. These tasks could be administrative support, creative help (like graphic design or social media), or customer service. Set your rates, whether $10/hour or $70/hour and work at a rate that's right for you.
Virtual assisting is a 1099 position, so you can work when you want as long as you communicate with your client. I personally have been a virtual assistant for several years, and I only work Monday-Thursday, 10:00 AM-3:00 PM, because that's what fits in my schedule!
There are many different ways you can use your talents to help business owners. There are tons of different freelancing platforms that you can sign up for and apply to listings. However, be aware that most of these will take a portion out of your earnings. Upwork and Fiverr are some of the most popular freelancing platforms you should consider signing up for!
Social Media Manager
Social media management is perfect if you love creating content! As a social media manager, you'll strategize, manage, and optimize your client's social media accounts so they can focus on other tasks within their business. You can work with influencers, small business owners, bloggers, and whoever you want to work with!
However, becoming a social media manager can be a bit difficult if you don't have experience, but it's still possible! There are articles, courses, and other free resources to help you get started. Social media management is more of a high-ticket service, so rates for this are usually higher and start at around $25/hour and can go up to $150+/hour, depending on experience and results.
You can find clients by using Upwork and Fiverr or by pitching to clients directly how you can help and any way they can optimize their current accounts. Create content, engage with their audience, write captions, and strategize when it best fits into your schedule.
Course Creator
Are you incredibly passionate about a subject and love sharing about it? Well, why not get paid for it? Create an engaging audience on social media or through email newsletters, and then create and sell your course to your audience! These courses can be anything you want, from crocheting to baking, blogging, or even making a course about courses. The options are limitless.
It usually takes several months to create a well-branded and information-packed course. So if you decide to take on this side hustle, make sure you plan on not getting paid for a while. But you can set the price for the course! Some course launches have made up six figures within just a weekend!
You can sell your course on Teachable or Thinkific to help you get started. But these platforms also take a portion of your earnings. Creating courses is a great side hustle that will generate passive income for you and your family.
Reseller
If you have a lot of extra clothes or home items around your house, consider selling them online. Most online reselling platforms take a portion of your earnings, but they take care of sales tax and a 1099 form for taxes. Just take a few pictures of your item, describe it, and list it at a reasonable price. Once it's sold, just pack it in a USPS box and drop it off whenever it fits your schedule!
There are many different platforms to sign up for, like Depop or Poshmark, so choose whatever works for you! This is great if you have an hour in your day to list items, then go to the post office once a week. This can bring in anywhere from a few hundred to a few thousand dollars a month.
Blogger
Starting your blog side hustle is one of the perfect ways for moms to get an extra income. You can choose whatever you want to blog about, whether that be parenting, cooking, travel, you name it! Monetizing your blog can be done in many ways, making this one of the best side hustles.
Show ads on your site, create a course, do affiliate marketing, and allow sponsored posts. There are endless ways to monetize your blog!
However, it can take over a year to start making at least a few hundred dollars a month. It also requires you to be tech-savvy with a website, social media, and SEO. But it's incredibly doable. Make sure that what you're writing about interests you and find internal motivation, or it can be so easy to give up on a blog.
Tutor
Do you have a talent for a specific topic or have a degree in a core subject? If you do, consider becoming a tutor. Tutoring is a great side hustle for moms because it allows you to set your own rates and schedule, meet virtually, and you can watch your students progress!
You can find students to tutor by joining local Facebook groups and mentioning your services there. You can also connect with your local library and tell them about your services. If you don't have the time or energy to market yourself, join a tutoring agency! Companies like SuperProf or Studypool will do the marketing for you. You just sign up!
These platforms will take a percentage of your earnings, though. So if you want to keep all your hard-earned money, it may be better to try and market yourself.
Digital Product Seller
If you're not interested in selling a course, consider creating and selling digital products on Etsy! There are hundreds of products you can make. If you're an artist, consider making art to be digitally downloaded. If you love making spreadsheets, make templates like a calendar! There are endless digital products that you can create.
Because these products are digital, you won't have to worry about shipping costs, packing time, the cost of materials, and all the other expenses that come with owning a physical product-based business. Just make sure you're giving excellent customer service! Selling digital products is a great way to create passive income.
Last Thoughts on Side Hustles for Moms
While it may be hard to find a side hustle that allows you the flexibility for being a mom, there are tons of options out there for you! Try these eight side hustles, along with the resources, and you'll be on your way to getting at least a few extra hundred dollars a month!
Get Sanity, Delivered to Your Inbox.
About the Author
Kaitlyn Lowther
Contributor
Kaitlyn Lowther is an INFJ and the CEO of a digital marketing agency, Virtually Vital. She started her blog, Strive Hustles, to give people information and resources to make an extra income. Her goal is to give people as much bias-free guidance as possible!
My Motto: I break down the pros, cons, and roundups of side hustles to save you time and money!
Motto: I break down the pros, cons, and roundups of side hustles to save you time and money!